ImageMagick
Tutorial Templates
(Teaching Templates)
(with Mr. C's approval)


.......Take a Face..........

Any Face and implode under the F/X Tab at ImageMagick.

Friend or a Foe. Fur or Feathered friend.

A cartoon maybe? Your Boss. The Mailman

The Grocery Checker, a Fav Waitress.

Have your Image way with it. No mess to clean up.

No Batteries needed (maybe your keyboard)
---

This is Implode of 0.6%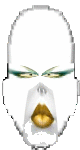 This is implode of -0.6%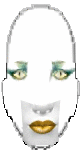 1st implode 0.8 2nd implode -1.22
Hey a MJ nose after surgery.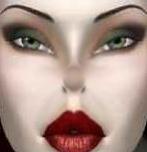 So you all are convinced I have lost my mind huh?

Working with implode, wave, swirl, and others will teach you how you can make shapes. You need to work with your height and width also.

Adding a border of whatever size. Think of it as adding more canvas to paint on. This is the way I use it most of the time.

No need to type out a base image url and composite the image on it to get more room to work on.

Add more canvas space with border!

You can make body parts move. Like make this face smile by using wave set so the corners of her mouth turn up. Then Morph-animate her and have a finished animation without building a index, without even leaving the Magick Studio.

Use wave adding a LARGE border to the North and South sides of a color of your choice double the width and use oh say 11 for the up and down part of the wave and you have made a curved banner. Just cut off the excess in the N and S parts of the graphic. It's that easy.

?Q) How the heck do I get the background of a image a solid color without compositing it?

?A) You are gonna phreak. It's really easy.

Take your image to "Transform".

Select Rotate, not rotate left or rotate right, but straight rotate where you have to put in some numbers.

Type in 0.01 Yup fractions again and they work well here.

Type in the color of background you want in the text area at the bottom.

Check mark your "reset page geometry"

Click the button next screen is your image with shazzamm look at that! A solid background in the color you wanted.

There is a method to my madness. Yes really! LOL

---
To add special effects to your image, enter your effects parameter and method. Note, only methods denoted with an asterisk require a parameter value. Next, press effect to continue.
---


---
Two related tutorials:
Making a Tapered Candle Image
More On "Pinching With Implode" Graphic Manipulation
---
This tutorial written courtesy of:





ArborHosting ImageMagick
03/01/2005

Please continue to support our sponsors of
Mr.C's GREAT Online Imagemagick Studios